Dear Members,
This is a lengthy communication however the content is very important for all members to read fully.
Over this pandemic the executives have worked incredibly hard to secure the future of COSASC especially in these financially difficult times. We appreciate the ongoing support from members who have continued to contribute financially each month which has enabled us to provide what we believe is a much needed platform to enable our athletes continue some form of exercise during this pandemic. We care about our athletes and their continued health and wellbeing which is the reason we wanted to provide this function to as many members as possible.
The Chair supported by the Executives has been the driving force throughout this whole pandemic working to protect the future of the club, it became apparent very quickly that the club may not survive the pandemic and our future looked very fragile. These challenges arise from a lack of structure, leadership and management by not having a functioning Chair for such a long time – resulting in the not being ran as a financially viable business for quite some time. Building the club into a sustainable position would have been a difficult job without the pandemic and this last year has certainly pushed the club into a position where we required significant change resulting in some very difficult decisions needing to be made.
The Chair has worked throughout the pandemic to reformulate the club into a sustainable business, reviewing the finances with support from our Treasurer it was clear to see that the club has more money going out of the club than coming into the club. The only way the club has managed to keep its head above the water is due to money made at galas, however over the last few years the profit margin linked to galas has reduced significantly and in this past year we have had no galas.
We would like to share with you some significant changes which have been implemented to save our club and ensure post the pandemic we are in a position to re-group and work towards rebuilding Sunderland to be bigger and better than before.
The executives considered a number of ways in which to reduce the outgoings from the club, we are working with Everyone Active (EA) to reduce pool costs, as there were a number of sessions which that were not being utilised to full capacity – therefore we have handed that provision back to EA to reduce our quarterly pool hire costs. Another area and the biggest outgoing for the club was in relation to Coach salaries, therefore the Chair produced and presented a re-structure proposal which resulted in her leading a full staff consultation process. That consultation process is now fully completed and a new structure has been ratified – this has meant a number of changes in our staffing structure, please see below the original staffing structure: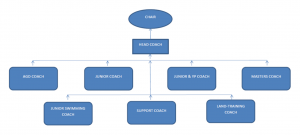 Please see below the new staffing structure: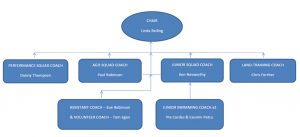 These structural changes have helped to reduce outgoings for the club, it also enables us upon return to swimming to rebuild our club – we want to ensure its future for many years to come for our current and future athletes. The structural changes have also enabled us to look at the flow of our swimmers thorough the club, we will be working with all Squad Managers to review and amend the entry and exit criteria for each squad along with expectations within each squads appropriate and relevant for us as a club now and in the future. We will be focussed on having a clear business model geared towards providing a quality service to our members.
A number of changes being implemented came from the feedback we received from parent and member questionnaires which were returned earlier this year so thank you to everyone who shared their views. This work with Squad Coaches will take place between Jan and March 2021 with the plan that we will re-launch our new vision, club ethos and squad criteria on the 1st April 2021 – we are keen to ensure we are an inclusive family orientated club that has clear systems and processes in place that are clear to all.
There is further work planned with regards to the current Youth Potential Squad, we believe this is an opportunity to utilise this squad for our teenage swimmers who do not want to swim and commit to a Performance training schedule. We aim to provide these swimmers with sufficient water time and land training led by Chris Ferriter to enable those athletes to continue to swim, compete and improve their performance whilst training Monday to Fridays – this is to give them the flexibility they need for a school. home and swim life balance. To ensure these athletes have the best opportunity moving forward we will reformulate this group into Youth Performance – Ken, Danny and Paul will work collectively to manage and lead this squad upon our return to the pool. We hope that this will enable us to retain our older swimmers and give them the flexibility they need throughout their teenage years whilst also enabling them to continue to progress in swimming.
The new structure will also see changes within the Masters Squad – moving forward Ken and Danny will work collectively to manage the Masters moving forward.
This consultation process was completely confidential as you would expect to ensure our coaches were supported, listened too and suggestions from them were considered and resulted in further changes being made before the structure was finally approved. It wouldn't have been a fair to make our members aware of this as this was underway – we hope everyone can appreciate why no one was notified of this earlier.
Now we have completed the consultation and implemented the new structure with immediate effect this means that each of our Squad Coaches are now the lead for their own area – we no longer have an overall Head Coach we have implemented a devolved leadership model and all Squad Coaches will work collectively as a team of equals with direct leadership, management and decision making for their own squads.
There are other changes which will be implemented from 1st April 2021 too, we are moving from a standing order payment system to direct debits to make it easier for our accounts team to identify non-payment of monthly squad fees. This will enable us to contact individuals immediately in line with the new policy and procedure that will be released in April around non-payment of squad fees. In this policy it stipules if monthly fees are not paid athletes will not be permitted to enter the water till that payment has been made in full – previously there has been monies owed to the club which some of that needed to be written off as a loss or a significant period of time had passed before being paid – therefore moving to this new system enables us to manage this in a much more effective and safe financial manner for all involved. There will be further information shared with you in the new year about moving to this direct debit payment system and this new policy.
We are going to work to review our committee and volunteer members who support and enable the club to function – we need help in a number of key roles which remain unfulfilled – again further communications will come out in the new year around these posts and how to get involved – if these posts remain unfulfilled we may have to decide as a club what we can and cannot do moving forward as there are not sufficient volunteers for the work needed to run the club for the future.
We appreciate this is a lot of information to be communicated all at once however we wanted to make sure you were all made aware at the earliest opportunity of the work and changes that have been ongoing and are crucial to ensure our club survives the current economic difficulties it is encountering – to ensure we survive and thrive in the future.
None of this would have been possible without the hard work, vision and business acumen of our Executives and our Chair who came into post early September 2019 – in the Chairs first year she has had to deal with the closure of the centre, finding swimming provision elsewhere which didn't get used due to the pandemic, the financially difficult position the club was in upon her coming into this volunteer role and the work she continues to do in the background to grow, develop and safeguard the clubs future vision of a fully inclusive, family orientated club.
Finally as noted in the communications which went out last week on the website all coaches have been furloughed apart from Chris Ferriter (Land Training Coach) and Ken Nesworthy (Junior Squads Coach) therefore if you require assistance with regards to the land training please contact Chris directly for any issues with accessing the platform or for questions around land training (for Performance, YP, AGD Squads) and Ken for questions around land training (for Platinum, Silver and Gold Squads).
Kindest Regards
Linda, Ian and David
COSASC Executives