Interested in the Masters ?
For age group 18 years + . Caters for both Masters competitors, keep fit & Triathletes.
If you are interested in the Masters, but are unsure about committing yourself to joining, then why not take advantage of a free 1 week taster session when you can get to meet who we are, what we do, when and where we swim.
In addition, we will answer any questions that you may have whilst also letting you experience what it is like to swim in a squad with like mined people and how Masters Swimming caters for all abilities and not just those who wish to compete.
Coach
Squad Manager
Email: masters@cityofsunderlandasc.co.uk
Training Timetable
Monday
Tuesday
Wednesday
Thursday
Friday
Sunday
AM
Morning Sessions by Arrangement
PM
20:15 – 21:15
19:30 – 21:00
 20:00 – 21:00
 16:00 – 17:30
---
Billingham Masters Meet 2019
A large team of Masters attended the Billingham Masters Meet with the focus on qualifying for , the Swim England Masters National Championships 25-27 October 2019 Ponds Forge Sheffield supported by Lead Masters Coach Constantin Cosmin Petcu.
The meet was selected as it provided our swimmers with the opportunity to compete against great clubs from Leeds, Newcastle , Stockton, Ashinton, Carlisle and Scarborough were we  all witnessed some great swimming across the meeting including a new British and Scottish record.
On the overall ranking COSASC Swimmers collected  six  medals  as follows:
Dave Hills silver in his 50m,100m and 200m freestyle events ,Norman Stephenson silver in 200m breastroke and Amii Turnball collected silver medals in 100m backstroke and bronze in 100m butterfly.
Each of the following athletes Conor Crozier, Graeme Shutt,Barry Robinson, Ian Whyte, Paul Henshaw , Louise McLellanand Mark Robinson competing in  their age group finishing on one occasion or more on one of the three places of the podium.
In addition a special mention with some excellent performances goes to both Paul Henshaw and Louise Mclellan with Pauls first Masters Competition and Louise tenancy as she just returned from a  gala In Stafford a day before as a continuum preparation to her entry in the World Transplant Games at the end of August.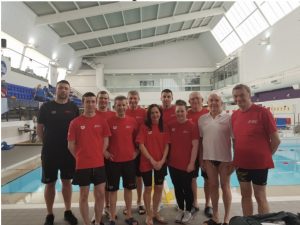 (left to right) Constantin Cosmin Petcu, Paul Henshaw, MarK Robinson, Ian Whyte, Dave Hills, Louise Mclellan, Conor Crozier, Amii Turnball, Barry Robinson, Norman Stephenson, Graeme Shutt
---