Celebration of National Masters Swimming
Swim England Masters championships 2019 (25m) Sheffield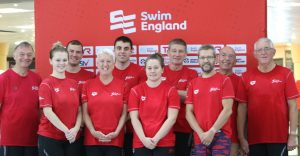 Known as the city of Steel, Sheffield's Ponds Forge International Sports Centre swimming pool, eastern of the Pennines, last weekend accommodated for three days the 2019 Swim England Masters Championships short course edition, an event that brought around 1500 competitors from a total of 232 clubs, competing in almost 50 events.
Hundreds of swimmers competed in this year's national championship event which saw a number of World European and British records been conquered.
City of Sunderland Swimming Club been represented to the nationals by a team of eleven athletes, the first day was a good start for the club as Lindy Woodrow broke the ice with here 1500m freestyle event followed by Norman Stephenson winning his first bronze medal of the competition, in the 100m Breaststroke event, followed by Amii Turnbull bronze medal in the 400m I.M. event and Dave Hills silver in the 200m freestyle event.
The number of medals increased on the following day with a silver in the Men's 4x100m I.M relay (Graeme Shutt, Ian Whyte, , Norman Stephenson, Barry Robinson), silver for Norman Stephenson in the 200m breaststroke event, a gold in men's 4x200m freestyle event (Graeme Shutt, Ian Whyte, Norman Stephenson, Barry Robinson) a silver for 4x100m Mixed Medley team event (Mark Robinson, Amii Turnbull, Gareth Orr, Imogen Fife), an event team that entered for the first time in the last 5 years. Furthermore, the events that Conor Crozier swam ended up with improving his entries times.
In the Men's 200m I.M event Graeme Shutt a bronze and Norman Stephenson a silver, two more silver medals in for the 4x50m freestyle (Dave Hills, Norman Stephenson, Graeme Shutt, Barry Robinson) and 4x50m Individual Medley men's relay team (Graeme Shutt, Norman Stephenson, Dave Hills, Barry Robinson).
Third day brought the team another three medals with Norman Stephenson bronze in the 50m Breaststroke event, Ian White 800m freestyle bronze and the men's 4x100m freestyle silver (Ian Whyte, Barry Robinson, Graeme Shutt, Norman Stephenson).
"Three successful days at the English National Masters Championships, everyone that swam did achieved PBs and won medals. It was a great opportunity to get to know people's strengths a bit better and assess the work that we have collectively undertaken in the last year. I'm looking forward for the next years upcoming events. Our doors are always opened for new members"
Lead Master Coach Constantin Cosmin Petcu
City of Sunderland Swimming Club ranked second in the North East, nationally been placed 35th from a total of 232 participated swimming clubs, this couldn't have been possible without their excellent training facilities, the support of all their members and volunteers.